to the home of the Philadelphia Modifiers on the web!. The Philadelphia Modifiers received their new dates for our "Atco Yesteryear Drags and Car Show". Our spring Event Date May 1st, has been postponed until May 22nd due to weather conditions, HOPE TO SEE YOU MAY 22ND! Fall Event Dates will be October 9th, with a rain date of October 30th. Make sure you attend our Events, this will be our 30th Anniversary Year!  Twenty Five Years of Great Drag Racing, Fantastic Car Shows, and a Swap Meet filled with all the treasures that you are looking for to complete your project. So make sure you mark those important dates on your calendar of events.  The Philadelphia Modifiers look forward seeing our old friends, and making new ones this season.  Thanks for attending our events for all these years!!!!
If you have any questions about the club or our events, or wish to get on our mailing list  please email modifier@verizon.net
Follow us on Facebook.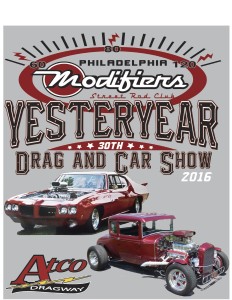 This years 30 Anniversary Shirt will be  for sale  at our Spring and Fall Events, cost $20.00.